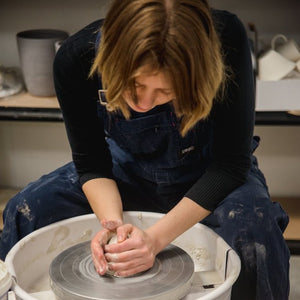 No bookings taken on this site!  Head on over to https://lygonstreetpottery.com.au/class-booking to book your class!
Over this 8 week pottery wheel course you will learn the 

fundamentals

 making cylinders and bowls.  You will learn how to centre and throw, and trim a foot ring on your work. We will explore a range of decorating methods using slips, glazes and textures.  And you will have a few beautiful vessels to take home with you at the end of the course. Intermediate students will progress to more complicated forms (for example cups with handles or lidded vessels).
Work will be glazed in the last week and will be fired and ready to pick up within 2-3 of weeks of the term - hopefully within a week!
The course fee includes tools, materials and up to 3 kg of firing.  ($10 per kilo will be charged for firing in excess of 3 kg.)